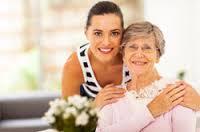 In spring of 2012 I took a caregiver support class to help me cope with the discovery that my mother had dementia. One of the best tools that I received in the six-week class was a one-page sheet of what is called The Ten Absolutes, which I promptly put front and center on my refrigerator door.
The Ten Absolutes are communication tools for caregivers of those with Alzheimer's disease or a related dementia. They were developed in 1996 by Jo Huey, who worked as the director of the Alzheimer's Residential Care Homes, a group of six homes in New Orleans.
Huey also holds a certificate in gerontology from University of Denver and a master's degree in social science from the University of Colorado. Both her thesis and her first book, Alzheimer's Disease: Help and Hope, were designed around The Ten Absolutes.
I hope you benefit from these ten communication strategies as much as I did when with your loved one:
TEN ABSOLUTES:
Simplify Daily Tasks and Create Positive Interactions
Absolutely Never………..This Instead
1. ARGUE instead AGREE
2. REASON instead DIVERT
3. SHAME instead DISTRACT
4. LECTURE instead REASSURE
5. SAY"REMEMBER" instead REMINISCE
6. SAY "I TOLD YOU" instead REPEAT/REGROUP
7. SAY "YOU CAN'T" instead DO WHAT THEY CAN
8. COMMAND/DEMAND instead ASK/MODEL
9. CONDESCEND instead ENCOURAGE/PRAISE
10. FORCE instead REINFORCE
As an example, before taking the caregiver support group and learning about The Ten Absolutes, I frequently tried to reason with my mother. You'll notice that's number two in the "Absolutely Never" column! Reasoning got me nowhere, but diverting, its suggested alternative in the "Do This Instead" column, seemed to prevent conflict.
Huey gives more specific examples on The Ten Absolutes poster that she sells on her Website. It would be shaming (an "absolutely never") to ask the loved one with dementia, "How can you accuse John of stealing your things after all he's done for you?" Instead she suggests distracting (a "do this instead") by saying, "John is here to help us find your wallet. Let's have a cup of coffee and get started."
I really like what Huey says on her home page atwww.alzheimersadvocate.com: "Choice is a wonderful thing unless you feel that you have no options. You do not have a choice about Alzheimer's disease but, you do have a choice about how you respond to the challenges the disease presents…In fact, the choice is yours; you can proceed with pain or with pleasure."