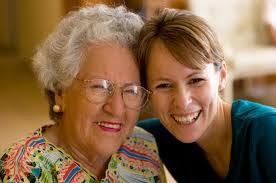 The prospect of moving for people of any age can certainly create mixed emotions. Yet when you reflect back on the times you've moved, there was always a positive, motivating reason(s) to make a change. The same is true when a loved one is moving into an assisted living community.
It's helpful for family members and seniors alike to remember some of the benefits that ALFs provide to empower such a transition:
1. Trained staff. Assisted living communities hire trained staff to care for the varying levels of care residents need with their activities of daily living. This includes staff specially trained to care for individuals with cognitive impairment (which, according to a recent Forbes article, makes up about one half to two thirds of residents).
2. Caregiver well-being. Family members often put aside their own health to take care of a loved one's increasing needs and assistance. Yet sometimes, it's best for everyone's health to allow trained staff to care for your loved one.
3. Assisted daily living support. This is what "assisted living" was created to do: To provide varying levels of support as needed to allow an elder to live as independently as possible in a residential setting. There are basic included services and those requiring additional fees determined by needs. Services include things like housekeeping and laundry services, medication management and assistance with eating, dressing, walking and going to the bathroom. Assisted living communities offer more personal care services than living at home alone.
4. Balanced nutrition. We know how challenging it can be for seniors to prepare balanced meals when living alone. Whether having to do with depression, limited transportation or loss of appetite or energy, people don't enjoy cooking for one. Assisted living communities provide nutritious, well-balanced meals three times a day in a restaurant-style dining room where they can eat and socialize with other residents.
5. Opportunities to socialize. It's no secret that many seniors who live alone suffer from depression. Assisted living communities typically have an activities/social director who oversees the social and recreational activities schedule for the residents, enabling them to meet new friends, and remain active and engaged with life. Studies have shown that active elders are happier and healthier than those who remain isolated.
Assisted living is a viable option that can enhance your loved one's quality of life, while allowing the caregiver the knowledge that their loved one is in a secure environment where their needs are met. As the Forbes article states, "Run well, these facilities fill an important niche. But to get the most out of them, consumers must be discerning shoppers and strong advocates."
Here at The Peninsula, we are happy to answer any questions you may have, and invite you to take a tour of our community at your convenience.