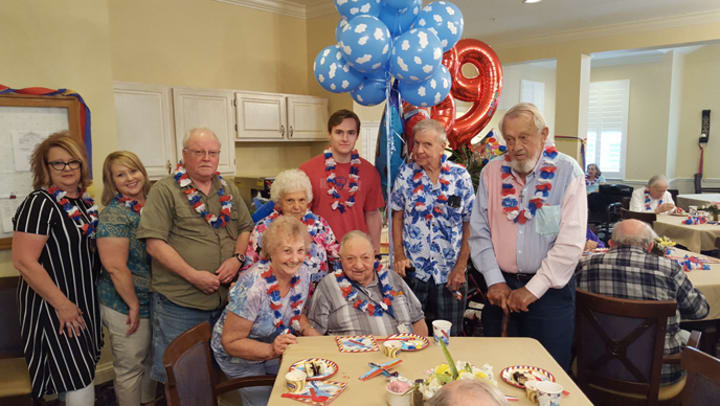 At Savannah Court of Brandon, we love to bring out the balloons and themed plates whenever possible. Throwing parties for our residents is always a highlight in the community and our friendly staff does their best to make each one as special as the next. We recently had the chance to celebrate one of our residents – and great friend – Carl, who turned 89 years old!
CHEERS TO THE BIG 89!
There were plenty of big smiles and red, white, and blue leis at Savannah Court of Brandon on our dear friend Carl's birthday. The entertainment room was decorated to the nines with everything airplane related – Carl's favorite! Airplane-shaped balloons and balloons covered in clouds floated around the room, making us feel like we were partying up in the sky. When the time came for sweets, the guest of honor blew out candles on a huge cake decorated with "Happy Birthday Carl!" as we all sang to him. Guests were, of course, given airplane-themed party plates to eat their sweet treat on. Carl's family and friends gathered around getting to know each other, shared some laughs, and told their favorite memories with Carl over the years. There were even small paper planes for tossing around as the party continued. Just when we thought things couldn't get any better, an entertainer came to celebrate the event with us, as well! It was truly an afternoon to remember, enjoying one another's company and showering Carl with lots of love.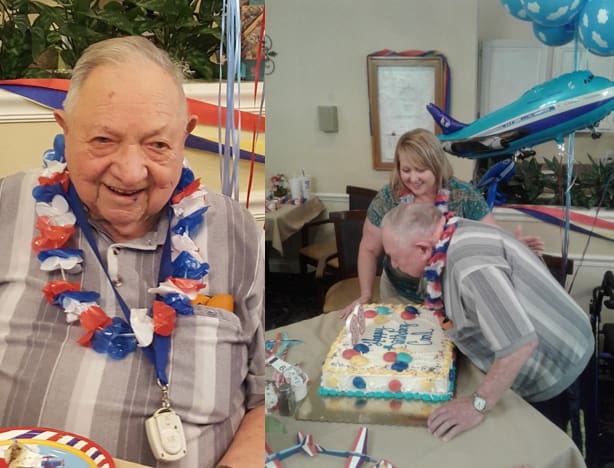 We go above and beyond for each of our residents here at Savannah Court of Brandon. It's our goal to make our community feel like home. Throwing birthday parties is just one of the many ways we help our residents to feel cared for, comfortable, and welcomed. Have an idea for other community parties we can throw? Let our friendly staff know so we can add it to the list! If you are interested in learning more about Savannah Court of Brandon or our senior living options, visit our website. Take a look at our blog to see more celebrations and stay up to date with everything else that is happening in our community.