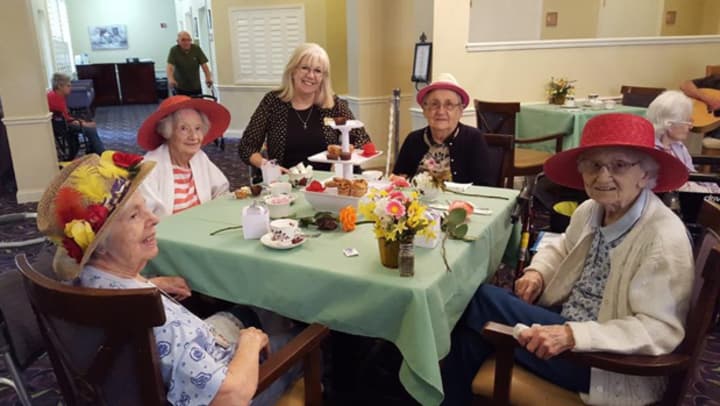 At Senior Living Management we love to celebrate, and when we do, we do it well. For Mother's Day, we held a "British Tea Party," and it was delightful. For a moment in time, we all thought we had been transported to Britain. Fancy dresses, beautiful hats, and colorful flowers made this day fun, while the great company made it memorable.
Tea being the beverage of choice, breakfast, earl grey, and green tea was among the resident favorites. To sweeten the pot, we paired them with tasty bites fit for a tea party, such as muffins, banana bread, and scones. We even placed a three-tier serving dish on every table for an added touch of charm. Residents and family members enjoyed the delectable tea, pinkies up.
FUN-FILLED DAY AT SAVANNAH COURT OF BRANDON
Like the time we brought a piece of Ireland to Senior Living Management for St. Patrick's Day, we didn't need to fly to the U.K. to have a taste of England. The room had no shortage for floral decor, from the tea set matched to the bright arrangements on the table. Every mother also received a beautiful English rose as a souvenir. Beautiful blooms such as lupines, peonies, and lilacs set the scene, while an entertainer played peaceful music on a classical guitar, making the atmosphere even more special. Mothers, grandmothers, and daughters, as well as husbands and sons, came to honor the women in their lives at Savannah Court of Brandon.
At Senior Living Management, we make it a priority to bring you and your family closer together than ever before. We take every opportunity for families to bond and make the most of that time at fun events like our bingo games or birthday parties.
Residents had a great time celebrating Mother's Day, and so did our staff. Our professional and friendly team loves what they do, which added even more laughs, smiles, and love to an afternoon filled with fun and joy. Music, games, delicious food, and conversations to remember with family and friends made this Mother's Day special, and we can't wait for our next event.
If you have any idea for our next theme party, we would love to hear from you!
Do you know of someone who would enjoy living in a community that always puts residents first? Visit Senior Living Management and discover why we are the best option for senior living.