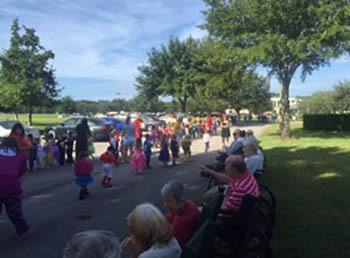 All great stories have characters we love and remember, mixed with frolic and fable that mirrors life values we all cherish.
Savannah Court of Lakeland recently partnered with Excel Christian Academy and Preschool for their Grandparent's Day event. A Storybook Character Parade was held where children dressed up in costumes and put on a parade, to the sheer delight of their grandparents and onlookers.
The parade began at the school and ended at Savannah Court. More than 200 children participated, wearing their finest costumes, accompanied by teachers, parents, and grandparents. Savannah Court staff handed out treats and drinks for the kids, while the children waved hello and pranced about for the residents.
In this story, time stood still, smiles were ageless, and the sounds of sweet laughter could be heard across the land. A new page in the life of a senior and all who love them, had just been written. Senior Living Management wishes to thank all those that participated in this thoughtful event.