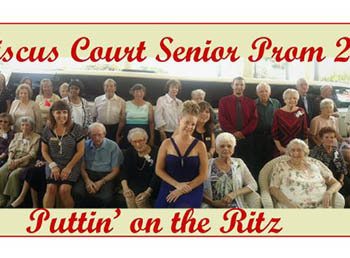 At Hibiscus Court, Senior Prom is an all-day event where the ladies primp and pamper, style their hair, and paint their nails. Gentlemen look dapper in ties and suit jackets. The staff enjoys dressing up as well.
The limo pulls up, and for this day there are no walkers, and no wheelchairs. Aches and pains are replaced with smiles and corsages as we frame our annual prom picture by the limo.
From there, it's on to champagne glasses and hors d'oeuvres, as we gather with family and friends. The Top of the Court ballroom is decorated in black, white, and red to celebrate this year's "Puttin' on the Ritz" theme.
Then it's time for the ceremonious crowning of the Senior Prom King and Queen under the glitter ball. As we dance the afternoon away, residents are held in the strong arms of our dapper-dressed volunteers, allowing many who haven't danced in years to enjoy the festivities without fear of falling. Some residents take to the dance floor to lead, others to follow, but all with a twinkle in their eye!
On this one afternoon in May, time stood still as residents relived the days of their youth, and- the Senior Living Management staff learned some new dance moves.