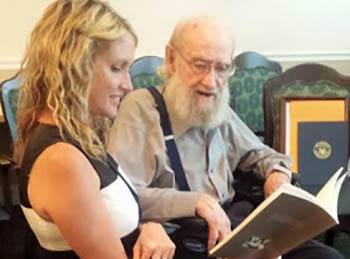 On Tuesday, May 19th, it was the honor of Savannah Court of Orange City's assisted living community to host a very special event to recognize one of their resident, Mr. Bill Dreggors. Mr. Dreggors is a fourth generation Floridian and a native son to this area. He is loved and respected by those who know and love him. Mr. Dreggors spent many years speaking publicly on Florida history and visited schools depicting Henry A. DeLand. Today students of history, young and old seek him out for firsthand accounts of live in the days of early Florida.
The event at Savannah Court of Orange City honored Bill Dreggors with refreshments and live music performed by Steve Faulter. Attendees enjoyed readings from his biography by Elysha Dunagan and viewed a special presentation of the video about Henry A. DeLand in 1876 narrated by Mr. Dreggors.
US Congressman John Mica sent district representative Barry Cotton to present Mr. Dreggors with a special proclamation honoring his contributions to our community. DeLand Vice Mayor Leigh Matusick also presented a proclamation declaring this day Bill Dreggors Day and the West Volusia Historical Society Executive Director Larry French presented Mr. Dreggors with a certificate of gratitude for his dedicated life of work that will be appreciated for many years to come.
The event was well attended by approximately 70 people who wanted to visit and pay respects to Mr. Dreggors. Savannah Court of Orange City has received many thank you cards from attendees.
At Savannah Court of Orange City and all of the Senior Living Management communities we are proud to honor the residents of our assisted living and senior living communities in Florida, Georgia and Louisiana. At each of our locations we meet and interact with a variety of residents who have lived interesting lives and we love learning from and about them.