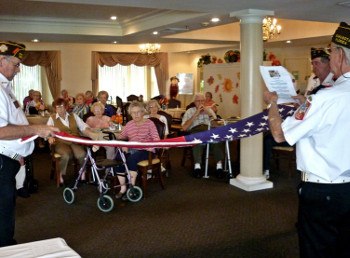 As we prepare to celebrate our great nation's independence this week, we wanted to highlight a ceremony that took place Senior Living Management's Savannah Grand assisted living in Sarasota, FL. The Savannah Grand community took time out of a busy activity schedule to honor the men and women who served in World War II, Vietnam and Korea.
The celebration began with an introduction from Jim Shaffer, Honor Guard Captain, and a heartwarming "Folding of the Flag" ceremony. Veterans Tom Smith and Ted Smith were guest speakers. Tidewell Hospice and Palliative Care performed a "Pinning of the Veterans" ceremony.
Many Savannah Grand of Sarasota residents were honored, as were their spouses. The spouses of the service men and women of our community were honored with red carnations as a special thank you for supporting their partners during their call of duty. Chaplin Shawn Dressen closed the ceremony with a prayer.
Celebrating our nation's independence reminds us of the bravery of the service men and women both at our assisted living in Sarasota, FL, and all over the country. The services these men and women contributed to the greater good of our nation and the world as a whole deserve to be recognized and honored.
Veterans Benefit Programs
Savannah Grand participates in a veteran's benefit program that contributes to assisted living in Sarasota, and all over the country, for veterans and their spouses. The Veteran's Administration offers a special pension through the Aid and Attendance benefit. The Aid and Assistance benefit allows for qualified veterans and surviving spouses who require regular attendance of another person to assist in support with activities of daily living an additional monetary benefit that can be used at assisted living communities. If you know a veteran who may qualify, contact Savannah Grand of Sarasota for more information about this special benefit honoring our nation's veterans.
As you relax at a neighborhood BBQ this Fourth of July and watch the fireworks bursting in air, we encourage you to take a moment to thank a veteran for their dedicated and honorable service.
Happy Independence Day!