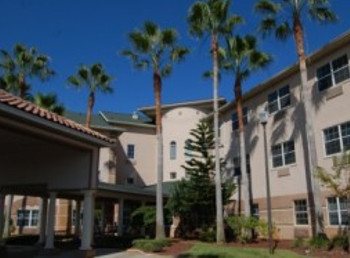 Louis "Larry" Moe served his country for 20 years in the Navy followed by an extensive career in Civil Service. He shared 54 anniversaries with the love of his life. Most recently, he celebrated his 95th birthday surrounded by his friends and family in his home at Hibiscus Court Assisted Living in Melbourne, FL.
Larry did not move in after a health crisis forced him to make a quick decision. Instead, he chose to leave his worries behind four years ago when he moved to Hibiscus.
"I just did not really want the burden of taking care of a home anymore," Larry says. "I wanted something much smaller for myself; my kids helped me find Hibiscus Court. I moved here and I love it."
MORE, NOT LESS
Assisted living is a lifestyle. At Hibiscus Court, it's about getting more out of life, not settling for less.
Consider assisted living in Melbourne before:
Meal preparation, housework or managing medications becomes challenging
You experience a preventable health care crisis
Make the lifestyle change if you would like:
A chauffeur, chef, housekeeper and support staff
Fun things to do every day
A fuller, more independent life
Residents of our Melbourne assisted living community like to say that life at Hibiscus Court resembles a voyage on a cruise ship. Once on board, you meet new friends, share stories and enjoy activities and events that make your life complete.
"Because we are responsible for ordinary tasks, your life is simpler. You focus on things that make your life fulfilling and fun," says Ashleigh Caswell, marketing director. "You can tinker on your computer like Larry or you can chat with friends, go shopping, dance at parties or take in a concert."
PURPOSEFUL LIVING
Assisted living is about putting yourself first.
"The key to living better, longer, is making the choice to move in because you want to instead of when you have to," says Heidi Kuchenbacker, executive director. "Too often, families wait for a senior to experience a debilitating health crisis before they decide to transition to assisted living. Children believe they are honoring the wishes of their parents by supporting them at home, despite the risk. Spouses become caregivers, even to their detriment, believing they are doing the right thing for their loved one."
You cannot predict your aliments or control the effects time has on your body. You can, however, live smart. At Hibiscus Court, trained professionals, including licensed nurses, provide assistance if you need it. These senior living wellness resources work hand-in-hand with medical providers to ensure that medications and services change, as you need. As a result, residents who call Hibiscus Court Assisted Living in Melbourne, FL, home often live longer.
SMILING FACES
Assisted living is home. When you walk through the doors of Hibiscus, you are greeted with a cheerful welcome. Residents say hello and tenured staff offer a warm smile and friendly greeting.
You will often hear the laughter of children or see the wag of a furry tail. You might toast with champagne or indulge in chocolate-covered strawberries on Spa Day. You could take the Hibiscus van for Men's Night Out or stay in to enjoy the girlish fun of a Pajama Party. You might simply enjoy the quiet of your senior apartment like Larry.
"Hibiscus has a great deal to offer," Larry says. "For me, I am a homebody for the most part and I enjoy the apartment space I have to live in. I enjoy my independence and being able to live worry free."
When seniors are actively engaged in life, they lead happier, healthier lives. This has been the goal since Hibiscus Court opened its doors 15 years ago; residents come first.
Hibiscus Court offers comfortable senior living, including assisted living and memory support in Melbourne, FL. For more information, or to schedule a tour, visit their website. Hibiscus Court is located at 540 East Hibiscus Blvd. in Melbourne, FL.
Please visit http://www.slm.net/communities for information on all of our signature SLM communities.