Adult Day Programming
Savannah Court is glad to offer Adult Day Care for St. Cloud's Seniors. Day Programming is perfect for seniors who need a little socialization during the day! Generally available 7 days a week, Savannah Court's Adult Day Care Programs are a great alternative to staying at home! They are also a great worry free glimpse into the LIFE at Savannah Court for prospective residents.
Learn More
Socialization
Join our Assisted Living residents for a 4-6 hour day including two meals. The Day Program is designed for seniors looking for an activities and entertainment program. Day Service is designed to support both residents and their caregiver families that may have alternate or conflicting career, family or educational responsibilities and obligations. Day Service offers a daily environment change for residents with full services to include activities, entertainment, meal and snack services, companionship and even Personalized Services. Many comfortable resting spaces are available at Savannah Court for Day Service residents to utilize throughout the day.
Your Savannah Court of St. Cloud professional is glad to review Day Service living options with you and answer any questions.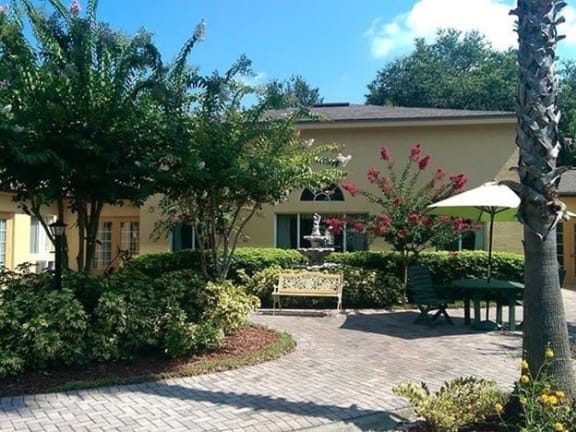 Testimonials
Just moved my dad in and it was a great experience. The staff is just wonderful and so helpful. Dad already loves it there. Great place!

- Susan LaPointe via GOOGLE
They are taking great care of my mom and she loves it here and the staff.

- Bill Sparks via GOOGLE
Savannah Court more than met our expectations! The staff is very efficient, fun, and caring. The food is delicious. We are so pleased at how clean the building and grounds are kept. Chet and Joan felt like they were home.?? We highly recommend this assisted living facility!

- karen de vries via GOOGLE
Very nice community. Would highly recommend! Staff was very nice!

- Darren Pough via GOOGLE
Great environment very welcoming. Thank you for your hospitality ??

- Steffany Lovera via GOOGLE
Geykel Gomez has been very respectful and I had a great experience touring the facility. This is definitely a place I would place my old folks here any day . The place is so beautiful and clean and feels like home.

- Polanco B via GOOGLE
Savannah Court of St. Cloud is a spectacular community where you can truly see how much the staff cares about their residents. The community relations coordinator, G, is so knowledgeable of the community and exceeded all my expectations! If you haven't had a chance to tour yet, call him and he will make sure the process goes as smoothly as possible!

- Sierra Riley via GOOGLE
This is a beautifully run building extremely clean and very nice staff. The sales representative Mr. Gomez could not be any nicer and extremely helpful. I would recommend this for anyone looking to place their love ones in an ALF with a Home like feel

- IRIS ITURBE via GOOGLE
Great community. Staff is so friendly and the place is very clean. A must see facility!

- DONNA POUGH-RIVERA via GOOGLE
Such a great place. I highly recommend. Go take a tour and see how great this place is!

- Deb Hope via GOOGLE
Fantastic place with a great staff. Everyone is caring. Would recommend to anyone looking for an assisted living facility.

- Divad Grebnaws via GOOGLE
We worked with Nemi to get my grandparents a room at this facility. We loved everything about it! Although they ended up deciding not to move out f their current home, Nemi went above and beyond to make it an affordable option for them. Would highly recommend!

- KACY BROWN via GOOGLE
Beautiful facility and wonderful staff, highly recommend!

- Paul Pasante-Ortiz via GOOGLE
Are great place for your aging loved one!

- Bradley Pough via GOOGLE
My father is doing so much better since he moved to Savannah Ct. At home he sat all day in front of the TV, eating his meals on a tray. Now he has companionship, goes to the dining room 3 times a day and enjoys activities. The staff is kind and committed. Though there was some resistance at first he now says he really likes where he lives.

- Namaste Sommer via GOOGLE
Perfect place for my parents, they are so happy here!

- Donna Pough-Rivera via GOOGLE
An amazing facility, so beautiful, everyone seemed really happy!

- MICHAEL RIVERA via GOOGLE
Great community would recommend!

- Sam Kipper via GOOGLE
Wonderful community, amazing staff, highly recommend!

- Carol Twitter via GOOGLE
Wouldn't look anywhere else, this place is the best!

- Leah Pough via GOOGLE
I toured this community. The staff was very nice and friendly. The meals seem to be a good variety. They had good activities that would have been good for my mom. This community comes highly recommended for the care and the value.

- Isabel Berly via GOOGLE
Its an awesome place Gail is the best administrad ever she loves her risdents and dose everything for them and to keep that place running the staff is great and friendly and the food is the best it is a great place for ur family member as well as a great place to work.

- Stephanie Lee Rubio via FACEBOOK
Gail is and awsome administrator she cares deeply for her residents as she does for employees she treats everybody with the upmost respect and makes sure the facility is always clean and residents are well taken care of this business is like my second home i have nothing but good comments about Savannah court

- Jerri Lynn Emrick via FACEBOOK
Great place for you loved ones. Great Staff, great administration

- Carlos Perez Varela via FACEBOOK